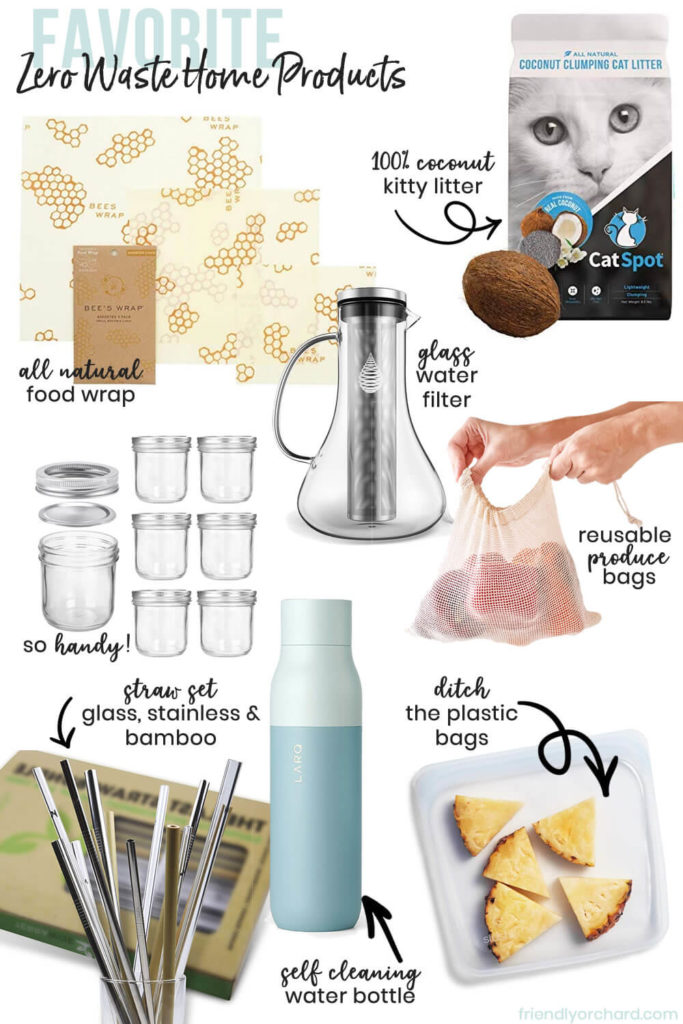 top row: beeswax food wraps // biodegradable coconut kitty litter middle row: glass 10oz mason jars // glass water filter pitcher // reusable mesh produce bags bottom row: reusable straw set // Larq self cleaning water bottle // reusable silicone zip bags
It's that time of year again. Spring is almost here, and I'm getting the itch to clean and organize the house (actually, John is the one who's itching to clean, I'm just here for the organizing!). So I thought I would share some of the eco-friendly products we're using at home.
Beeswax wrap is an all natural alternative to cling wrap. It's a thin cloth that's coated in wax, which makes it "cling" to bowls and food (or itself) and is easy to rinse off and reuse. You can cover leftovers in a bowl or plate and seal down the edges of the bees wrap, or you can wrap up fruits and vegetables directly with the wrap. It's great for wrapping up a cut tomato, a block of cheese, or veggie sticks.
Each sheet can be reused again & again. I still have an old box of plastic cling wrap in my kitchen, and I was keeping it as "backup" in case I found something that couldn't be covered with the bees wrap, but it's been almost a year and I haven't opened the box even once. 👍🏻
Next is kitty litter – this is a hot topic in our house! Seven months ago we adopted four (9-week old) kittens, and since then my life has been a blur of cat food and kitty litter. Chaos accurately describes the state of our once-peaceful home. 🙂
Over the months I've tried at lease 6 different brands of kitty litter, and they're all either too dusty, too perfume-y, too expensive, too messy, or not effective. Plus, the biggest concern for me was the amount of trash we were generating. Many litters come in plastic jugs and I was using 3-4 of those every week. I was throwing away the plastic jugs and the used litter. It was SO wasteful! Then I found this biodegradable kitty litter that's made 100% from coconut. It's low dust, unscented, clumps well, does a pretty good job with odors (I scoop all five litter boxes 1-2 times a day), and the cats like it.
I love that it's biodegradable. We're currently emptying the used litter in our trash, but I'm thinking about creating a garden area in our backyard where I can dump it. We have a big yard, so it could be an area at the back of the property… If you've done something like this for kitty litter disposal, please let me know in the comments. I'm curious to hear how it works, and if there are challenges I'll need to consider. But for now, I'm loving the coconut litter, it has drastically cut down on our weekly trash, and it's an all around great litter.
Glass mason jars are a staple in my kitchen. For years I resisted using them because they felt old-fashioned to me, but now I can't live without them! I use the smaller 16-oz (pint) size for everything from homemade coffee creamer, to leftover sauces, dips, milks & juices, grab n' go snacks, and in my pantry for spices, dried herbs and loose goodies like chocolate chips. I use the 16-oz size the most. The 32-oz (quart) size is good for dinner leftovers (soup, pasta, salad), as well as bulky panty items like dried beans and sugar.
But for the purpose of this post, I want to introduce you to my favorite mason jars. These little 10-oz sized jars are the best for homemade snacks & desserts. They're easy to pack in a lunch, and with their small size you can eat straight out of them (less dishes to wash!). I like to use them for chia pudding because after the pudding has set, there is plenty of room in the jar to add toppings, like fresh fruit, then eat everything right out of the jar. They're petite, cute, and you'll find a million uses for them, like I have!
We love this glass water filter pitcher. A year ago, John and I made the decision to stop buying water (omg, sooooo much plastic waste!), and switch to a filtered pitcher to make our own. I did a lot of research, and bought a beautiful Japanese pitcher that removes hard water (a big need for us). However, after a few months I realized the pitcher I bought was plastic. Ummm, yeah, it took me a few months to put that together. 🤦‍♀️ So I went on the hunt again for a glass pitcher. I mean, who wants their water just hanging out in a plastic container all day? Now we have this one, and I'm so happy! John is in charge of water in our house. Every morning he filters water, then goes around the house filling cat water bowls, the Keurig, our clay humidifier globes, watering the plants, and he fills our crystal water bottles. This water filter been one of the best investments for our household.
Next up are our very own, Friendly Orchard Reusable Produce Bags. We are so proud of this product! I worked hard to design a product that was not only stylish and functional, but completely plastic free. Our bags are made of all-natural mesh cotton (to be breathable and keep produce fresh longer), they have strong cotton drawstrings that double as a closure and a handle, and each bag has a label with the Tare Weight (so you or the cashier can deduct the weight of the bag from the price of the produce). Even our packaging is recyclable cardboard.
I realized a few years ago that everybody was bringing their own grocery bags to the market, but many people (myself included!) were still using the flimsy plastic bags offered in the produce aisle. I created these bags to provide a convenient (easy to stash), strong, and stylish alternative to the outdated option of single-use plastic.
Since we've been using them, I've discovered so many more uses than just fruits and veggies. I use them when I travel to pack toiletries, accessories and shoes. I use them for kitchen storage in my pantry (to organize things like cleaning cloths, rubberbands/ties, granola bars & snacks, and anything that can roll away, lol). I keep a set in the car and set in my purse in case I stop to shop, or need to carry something. Plus, they make great gift bags (it's like a gift in a gift…). I'd be lost without these bags.
Ok, this next product is probably my favorite of them all. STRAWS! Hahaha, I'm kinda nerdy like that. This was the best $10 I spent last year (along with my set of rainbow straws, which actually are my fave-fave, even more than these!!! You can read more about my rainbow ones here.). This set of reusable straws includes glass, stainless steel and bamboo, in all different lengths and widths. I selected this set because John and I were new to reusable straws (aside from the plastic ones that come with Starbucks travel cups), and I wasn't sure if we'd prefer the metal or glass ones. #spoileralert -we love them all! The metal ones are sleek and cool (literally). Iced beverages taste extra-cold when using these straws. The glass ones are fun because I like to see my drink as it comes up the straw (is that weird?), and they always feel really clean to me, since I can see the insides. And although I didn't think we'd use the bamboo straws, they have been wonderful for our morning smoothies, and homemade juices. Bamboo is anti-bacterial, so I feel good using them. Plus, we feel like we're on vacation when we use them. 🙂 The set even comes with a couple little brushes to clean the insides of the straws. I just cannot say enough good things about this purchase! In case you're wondering, the 10.5″ straws are perfect for my 24oz Starbucks cup, and the 9.5″ straws fit my 16oz Starbucks cup.
The Larq water bottle is something special. It has a UV light inside the cap that purifies your water, and cleans the bottle at the same time. You know how a water bottle can sometimes get that musty-basement-wet-dog kinda smell? Not these! They stay clean and pure.
John likes to go on day-long hiking trips, and this is the perfect bottle for him to take along. It keeps his water cold, the bottle is metal (so no worries tossing it in a backpack) and he can refill along the way and know that the water he's drinking has been purified. Plus, it comes in a variety of drool-worthy colors. I'll take one of each, please! 😂
The final product in this zero waste home products roundup post, is the Stasher reusable silicone bag. They come in a variety of sizes and colors, and are a replacement for single-use plastic zip bags.
In my kitchen, I use a lot of zip bags. Because I cook all three meals a day from scratch, my fridge & freezer are always stocked full of meal prep items, and leftovers. I used to reuse disposable zip bags (I'd write on the bag what it was used for – like "cheese," "lemon," or "croutons"). I'd use a disposable zip bag until it was falling apart! Now I don't have to worry about that. Stasher bags can be washed by hand or dishwasher (or, ummmm, not washed at all if the contents weren't too messy… 🙄), and they can be reused hundreds of times.
I especially use a lot of zip bags doing prep for our morning smoothies. At any given time, there might be 30 baggies of fruit in our freezer, and I find these work better than traditional zip bags. They're easy to seal, and the thicker silicone keeps our frozen fruit fresher (that might just be my imagination, but I swear our fruit is better when it's stored in these!).
If you're thinking of making the switch, I'd recommend buying one or two bags to try them. See how they work in your kitchen and lifestyle. Then you can add more over time. I know they're an investment (especially if you rely on lots of zip bags like I do for meal prep), but in the long run they'll save you time, frustration, and unnecessary waste. Plus, they're just fun to use!
That's it for this home product roundup!
Remember that making the decision to go zero/low waste in your life doesn't have to be overwhelming. Just look around your home and pick one item you can replace with a reusable option. Once you've made that change, and lived with it long enough that it has become comfortable and a regular part of your everyday life, pick the next item to change.
An eco-friendly lifestyle is a journey, not an instant change. There will always be people who are more "green" than you are. There will always be people who look at your life and think you should be doing more. But in the end, you need to do exactly what is right for you, and your situation.
Don't try to change everything overnight (that IS overwhelming). So, tell me in the comments, what is the one thing you're going to change/replace in your life this month?
I hope you enjoyed this post – see you next time, my friend! ❤️